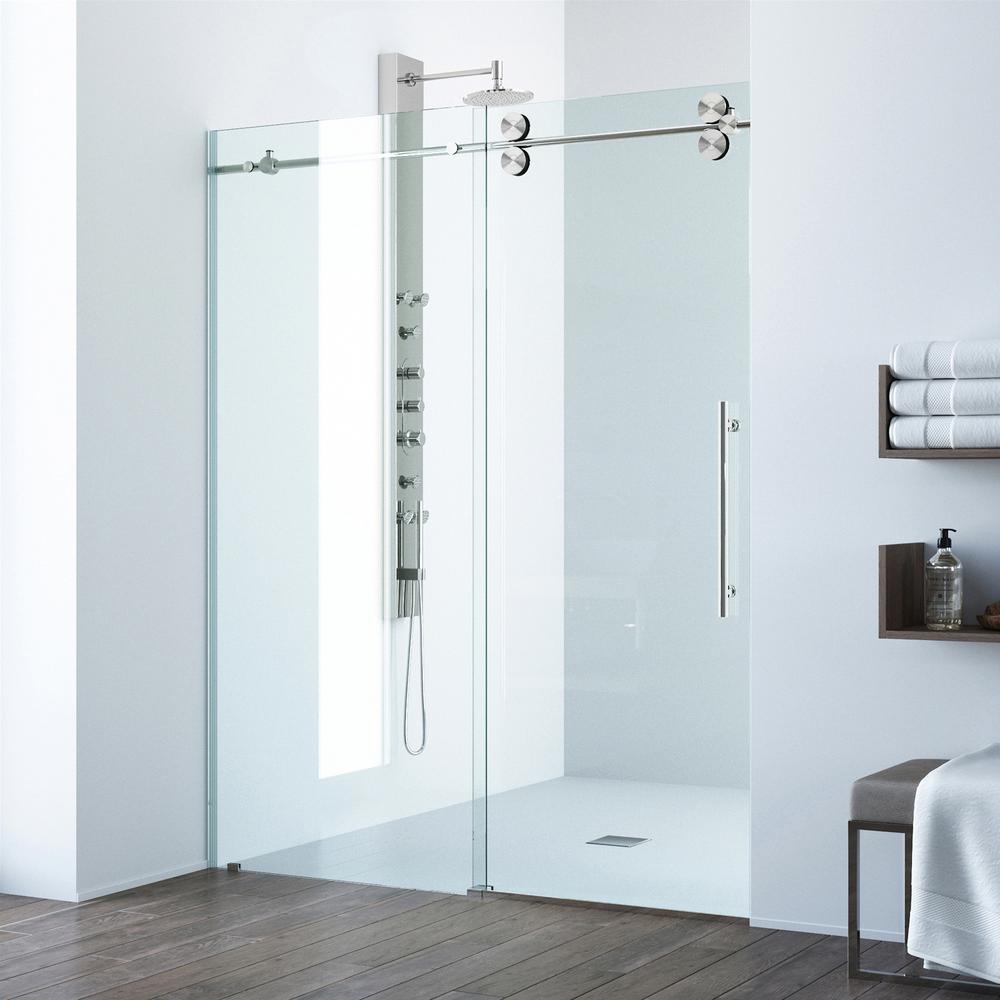 Glass sliding doors for the shower

For showers, doors are used which can be opened in different ways. Glass doors for the shower sliding - the optimal option, which allows you to provide maximum comfort during hygienic procedures, save space, give the interior lightness, grace.

Shower room with sliding glass doors consists of:

- fences (side walls are also made of glass or as walls of the bathroom appear as fences);
- sliding doors (can be frame / frameless, consist of 2-4 sections);
- a pallet (the option of a shower without a pallet is possible, when the water is merged into the hole on the floor);
- additional accessories (carriage with rollers, sealing gaskets, magnetic profile, handles, etc.)

Most often showers with sliding doors are installed in apartments of small dimensions. Thanks to the fact that opening the door does not have to "steal" free space, the small bathroom is visually increasing, and for every necessary item is its place. In this case, it is not worth choosing cumbersome options for the shower room, and placing them more preferably in the corner or one of the walls. If there are ledges or depressions, the shower room can be installed precisely in these places.

Glass sliding doors for the shower

The design of the shower with sliding glass doors has competitive advantages. The choice of the design of the doors is huge, while they can be installed in rooms of any size. With the help of magnetic seals and latches, the doors adhere sufficiently tightly, which avoids spraying water droplets throughout the room. It is also worth noting the safety and durability of the construction at its affordable price.

With proper care, the life of the sliding doors will not be less than the length of operation of the swinging doors. The use of glass and stainless steel cabins is ideal for the shower. It is possible not to worry that they will swell, cover with mold, start rotting, dulling, losing the perfect appearance.

The safety of sliding glass doors provides not only their thickness, which can be 4 to 12 mm, but the construction of a construction of special glass, tempered or triplex, which meets the modern standards.

For sliding doors into shower cubicles it is necessary to use transparent glass if the room should receive additional space and air. If you want to hide the process of taking a shower from outside eyes, you can use opaque glass. For example, the preference can be given to a matte surface, which is achieved by special sandblasting. Moreover, the surface of the door or the side walls can be either completely matte, or "zamatirovannoy" only in separate parts or with matte patterns. Interestingly, sliding doors are tiled in various shades of glass, as well as supplemented by thematic drawings.